April 5, 2019
It's no surprise there is a vast shortage of Nylon 66 (PA66) plastic material. There has been nine force majeures in the last eight months in Nylon 66, telegraphing that a problem is coming, this will be a global shortage. However, we can be prepared for this shortage and take action in a number of different areas.
What Happened
Nylon is a pretty simple polymer to produce, however, thanks to the shortage of ADN, one of the key ingredients in producing Nylon 66, this has put the industry on brink of a global shortage of this plastic material. ADN Plants are hazardous, highly specialized and costly to build, meaning only a limited number of companies make ADN, therefore 100% of the global supply of ADN comes from three suppliers at four different sites.
Who This Affects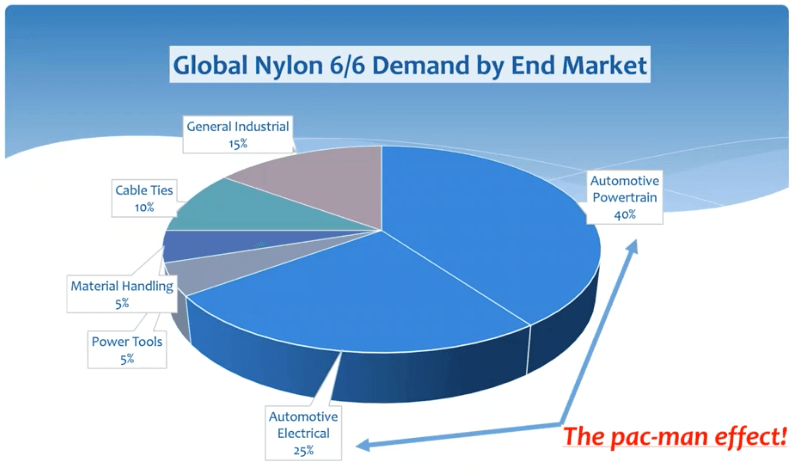 The global demand for Nylon 66 is strongly dominated by the automotive industry at roughly 60%. Therefore, the automotive market can pretty much dictate who gets what polymers. Automotive suppliers own the big supply contracts and are able to wield the leverage to make sure they get the Nylon 66 to sell their cars, it's the non-automotive markets that PolySource foresees the supply challenges.
Automotive
If you're supplying automotive PA66, you shouldn't have a problem getting resin, however, you will expect to see some price increases (if you haven't already). Communication is the main tool to survive this shortage and is highly recommended NOT TO USE BLANKET ORDERS. The only submissions that will be used to manage supply is actual orders, suppliers generally will not build to a blanket order.
Non-Automotive
The most concerning reality about the Nylon 66 shortage is the consequence in the non-automotive markets. Unfortunately, when things get tight, these manufacturers are not going to get material unless they're willing to pay extraordinary prices.
But…
Let's look at the glass half full and present some opportunities that this shortage can provide to non-automotive markets. Because of the way Nylon 66 prices have gone up, there is actually a profit opportunity because you can take potentially new materials to your customers at comparable prices to nylon but where the cost is lower than nylon 66 you can sell them at the same price, creating a profit opportunity. Be diligent as supply is only going to get worse and it's unknown how long it will take to approve a new material. BE PROACTIVE.
What Other Options Do You Have?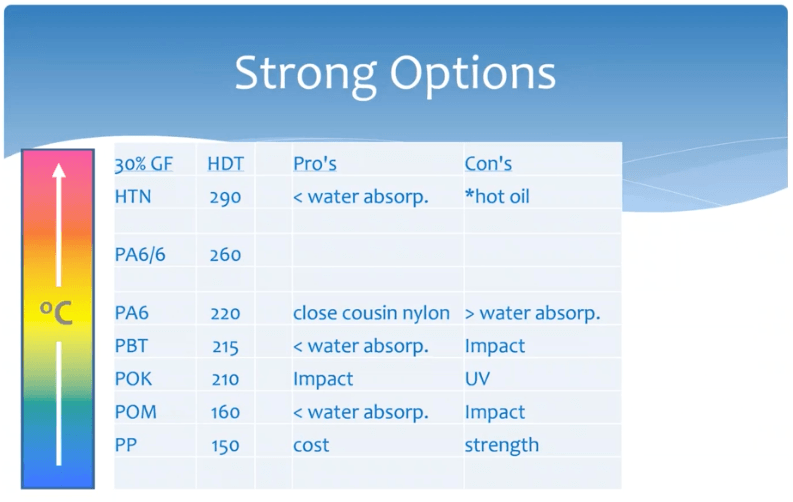 Nylon 66 is used in high volume automotive applications due to its high heat resistance and its ability to be sustained at elevated temperatures. Nylon 66 has a HDT of 260°C, and most other material options that could be substituted fall below that mark, however HTN has an HDT of 290°C but is delivered at a higher cost. This is worth having the conversation with your customer because even though HTN comes at a higher cost than Nylon 66, HTN is available and is not facing the same shortage of Nylon 66.
If you have applications that don't require the high heat requirements of 260°C, there are five potential materials to consider. Nylon 6 is in plentiful supply and will most likely be the path of least resistance with your customer due to its closeness to PA66. However, it does absorb a little more moisture than PA66 but in many cases those differences won't make an impact. Additional replacement options for Nylon 66 would be PBT, Polyketone, POM or Polypropylene.
What Should You Do Now?
Supply of Nylon 66 will only tighten; do not wait for this shortage to compromise your company. Be open with your customer and start discussing options right away. Start researching alternative materials and understand it may not be as easy as just swapping the material, make sure it works for that program. Also, be sure to pass any price increases through immediately, do not wait to implement a price increase on your parts until you buy, you will quickly fall behind. Obtain forecasts from your customers and place orders to your suppliers and do not rely on blanket orders. On the non-automotive applications, begin submitting test parts in new materials as soon as possible, there is no time like the present to prepare for the future.
Reach out to a PolySource representative if you have any questions regarding the PA66 shortage.