06 Apr

Minimum Order Quantities Causing Problems?
Minimum Order Quantities Causing Problems?
While known as a distributor of resin, PolySource wants to be thought of as a single, dependable resource that provides expertise in solving material supply issues with a hands-on, thorough approach to every customer interaction. "The Fixers" advertising campaign highlights what it means to have a better resin-buying experience.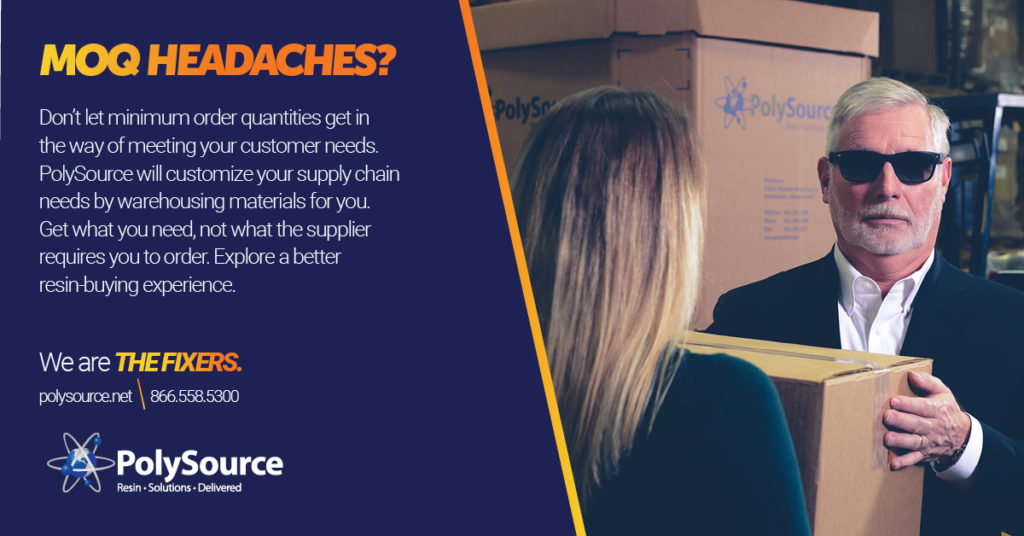 Material Inventory Issues?
Managing the fluctuation of customer volumes can put stress on warehousing and procurement strategies, but don't let minimum order quantities (MOQs) get in the way of meeting your customer needs. At PolySource, we are problem solvers here to help. We understand that several considerations go into material selection and sourcing. That's why we create customized solutions that are unique to your supply chain needs. If you're having issues with warehousing capacity, MOQs or need help supporting the changing needs of your customers, PolySource can help.
When you work with The Fixers, you can depend on us to:
Allow processors to be flexible with their customer supply needs, by warehousing material and delivering what is needed rather than what is required by the supplier
Forecast material needs, buy MOQ and stock and ship smaller needs to our customers
Suggest and supply material from resin suppliers without demanding MOQ's
Maximize warehouse capacity with a custom supply chain service that supports the changing volumes and demands of customers
Solve your material inventory issues by building a solution that supports processor business needs, helping you to get what you need, when you need it
As experts in the field, our knowledgeable team is invested in every step of your success. PolySource evaluates your specific product requirements, shares our best practices with you and collaborates to find the best possible solution. Challenged with material problems? Meet The Fixers.
Ready to explore a better resin-buying experience? Contact our customer support team to start a partnership with us today.